AP Photo/Jim Mone
As his life is honored in Kyle, South Dakota today, many across Indian country have reacted to the passing of self-described "Oglala Freedom Fighter" Russell Means, who began his journey to the spirit world on October 22, 2012 at 4:44 a.m.
His tribe, the Oglala Sioux, have passed a proclamation declaring June 26 as Russell Means Day.
"It is our belief that Russell Means should be honored as a respected elder for his life-long accomplishments, dedication, and patriotism to the Oglala Sioux Tribe," said John W. Yellow Bird Steele, the tribe's president in the proclamation.
Here's what others had to say:
Larry Flynt, president of Larry Flynt Publications
"Russell was a good friend and my running mate in the 1984 presidential election. He was a loyal American who history will look favorably on."
Michael Mann, director of "Last of the Mohicans"
The Wall Street Journal did an interview with Mann and asked him: What were your thoughts when you found out he had passed away?
"Well, I knew it was coming about a week ago. Because there had been an email exchange with his wife. He wanted to get back and die at Pine Ridge…First of all he was way too young. 72 is young. Way too young to pass away," Mann told the Journal. "He's an iconic person. He's lived through so much…What this guy stood for, the courage he had, and who they took on, in the 60, 70s and 80s—[American Indian activist Leonard] Peltier is still in prison. It's a struggle that's 400 years old. And Russell was fighting that battle every day of his life."
Read the full interview here.
Robert Chanate, a member of the Kiowa Nation
Says Means "led from the front and took the same risks as anyone else. Whether that meant going to jail, standing vigil in uncomfortable weather or carrying out tasks while exhausted, Russell Means wasn't one to skip out on us. Many times we'd complete a rally and Russell would jump in his van to travel to a different state so he could fulfill another request for his support."
Chanate knew Means and talks about his experiences with him here.
Carter Camp, early American Indian Movement leader from Ponca Nation, Oklahoma
"Sorry to hear my brother Russ Means has left us today. I'm seeing all these pictures on FB and remembering our times of struggle. We fought for our people when their hearts were on the ground and we made the oppressor listen to us. We called back the drum and the fire and used them to restore the pride of our nations. Russ earned his place in the circle by standing fast as a warrior and taking the lead when he was called by the spirits of our ancestors. Russ Means was his own man and did things his way.
"Many words will be written about a warriors passing and many of us will stop to remember our times together… good times, hard times, times of sacrifice and times of feasting and plenty. Early tomorrow morning warriors will take their Pipes to face the rising Sun and there we'll pray for our brothers journey to the spirit world where he'll join the pantheon of Oglala warriors who made their people proud. Rest well my friend you deserve it all. Hoka-hey!"
(Posted to Facebook on October 22)
Leonard Crow Dog, Sicangu Lakota Sundance Chief and former American Indian Movement spiritual leader
"He's a leader of all tribes—a spiritual leader—and a warrior. He was not originally a warrior, but all the injustice that happened to the American Indians and Canadian Indians—the system made him into a warrior just like Crazy Horse… He worked for the people."
Jefferson Keel, president of the National Congress of American Indians
Keel announced Means' passing during the opening session of the organization's annual conference held this year in Sacramento, California.
"This morning we heard the sad news that Russell Means passed away. Russell Means was a symbol of the strength of Native America. He was recognized as a national leader with fearless dedication and an indestructible sense of pride. He was a political activist who survived nine assassination attempts on his life. He lost his life to cancer."
Glenn Morris, of the American Indian Movement of Colorado
"In recognition of one of the primary, visionary leaders in beginning the contemporary work of international indigenous peoples' liberation, of which we are all beneficiaries. Without Russell, it is doubtful that many of us who do this work would have had the honor of continuing to defend our peoples in this way. Indigenous leaders, ranging from Rigoberta Menchu Tum, to Subcomandante Marcos to Evo Morales, have said that their work was inspired and motivated by the words, actions and example of Russell Means. May we all remember the historic contributions of Russell Means to the freedom and self-determination of all indigenous peoples, everywhere."
Leonard Peltier, from a statement on his website
"One thing about Russell I always remembered, and I think someone else once said it, you may have loved him or you may have disliked him, but you couldn't ignore him… He was truly an inspiration for all us younger guys at the time."
Read the full statement here.
Last Real Indians tribute to Russell Means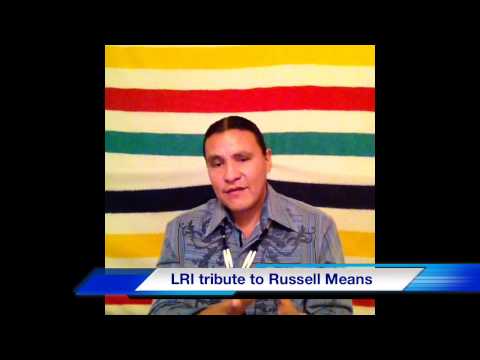 Related article: